We had a blast! Thank all of you for coming to the show! The biggest exhibition to date from our very own Jörg Heikhaus aka Alex Diamond opens in June at the prestigious Barlach Halle K. Alex Diamond presented all new work including of course his trademark woodwork, a series of paintings (!) , hundreds of his drawings and an installation.

Find all the available photos from the Events in our past shows, or through the links here:


Photos of the Soft Opening (by Julia Schwendner)
Photos of the Artist Dinner (by Julia Schwendner)

Photos of the Vernissage (by Eric Anders)



Also check out the artist website at www.alexdiamond.net and follow him on instagram to get the latest updates and Work in Progress-Documentation.
[deutscher Text hier, scroll down for the english version]
Aus Anlass des 20jährigen Jubiläums der Galerie heliumcowboy findet in der Barlach Halle K die bisher größte Einzelausstellung des Künstlers Jörg Heikhaus aka Alex Diamond statt.

Hier präsentiert er vollständig neu entstandene und nie zuvor gezeigte Werkserien: 300 Zeichnungen, eine Rückkehr zur Malerei und natürlich seine geschichteten, akribisch gearbeiteten und detaillierten Holzschnitte, die er mit diversen Mal- und Färbetechniken mischt, und die zu seinem Markenzeichen geworden sind. Während der Ausstellung entsteht zudem vor Ort und öffentlich eine begehbare Installation.

Im Jahre 2002 hat Jörg Heikhaus in seinem Atelier in der Sternstraße 4 (St. Pauli / Schanze) den heliumcowboy artspace gegründet als einen Ort für gemeinsame Ausstellungen und Aktionen mit befreundeten Künstlern. Innerhalb des ersten Jahres jedoch entstand aus dem sehr ungewöhnlichen Ausstellungsraum eine junge, moderne Galerie, die im internationalen Kunstgeschäft für große Aufmerksamkeit sorgte und zu einer wichtigen Platform für neue und progressive Strömungen in der Gegenwartskunst wurde. Unter dem seit Anbeginn existierenden Motto "A cowboy's work is never done" präsentiert heliumcowboy bis heute aufregende junge und etablierte Künstler*innen am zeitgenössischen Kunstmarkt.

Parallel zur Arbeit in der Galerie machte Jörg Heikhaus unter dem Künstlernamen Alex Diamond seine eigene Kunst, die auch bei anderen Galerien, u.a. in Barcelona, New York, Aalborg und Köln international vertreten wurde. Vor einigen Jahren hat sich Jörg aus der Galeriearbeit zurückgezogen und die Verantwortung bei heliumcowboy an seinen Sohn Melvin Heikhaus (24) übergeben, um sich einzig und allein nur noch auf seine eigene Kunst zu konzentrieren. Diese entsteht in einem Teil der Galerieräume im Bäckerbreitergang 75 in Hamburg, die er als Studio und Holzwerkstatt umgebaut hat, sowie in seinem zweiten Atelier im hohen Norden von Schleswig Holstein.

Als Gründer von heliumcowboy und da die Galerie vor 20 Jahren in seinem Atelier enstanden ist lag es nahe, Jörg Heikhaus aka Alex Diamond zum Jubiläum eine große Bühne zu geben, die in der renommierten Barlach Halle K gefunden wurde.

Alex Diamond versteht sich vorrangig als "Geschichtenerzähler". Der Hauptteil seiner Arbeit besteht in der Analyse und Interpretation von Gegenwartskultur und ihrer wiederkehrenden Erkennungsmuster. Der künstlerische Fokus liegt dabei auf dem Studium der gesellschaftlichen und kulturellen Aspekte des menschlichen Zusammenlebens.

Es ist immer auch politisches und gesellschaftliches Unbehagen im Werk von Alex Diamond zu spüren. Als Künstler nimmt er die Verantwortung an, sich zu drängenden Themen unserer Zeit mit seinen Mitteln zu äußern. Da ist eine große Wut zu spüren, aber auch Hoffnung und Aufmunterung zur Veränderung. Allerdings steht diese inhaltliche Tiefe eben nicht im ästhetischen und damit sichtbaren Vordergrund, sondern entwickelt sich wie ein guter Song durch das Einlassen auf Melodie und Rhythmus, Harmonie und Disharmonie, Text und Stimme.
[english version]
On the occasion of the 20th anniversary of our gallery heliumcowboy, we decided to host the largest solo exhibition to date of the artist Jörg Heikhaus aka Alex Diamond at a special venue, the Barlach Halle K.
Here he presents completely new and never before shown series of works: 300 drawings, a return to painting and of course his layered, meticulously crafted and detailed woodcuts, which he mixes with various painting and coloring techniques which have become his trademark. During the exhibition, a walk-in installation will also be created on site and in public.
In 2002, Jörg Heikhaus founded the heliumcowboy artspace in his studio at Sternstraße 4 (St. Pauli / Schanze) as a place for joint exhibitions with artist friends. Within the first year, however, the very unusual exhibition space developed into a young, modern gallery that attracted a great deal of attention in the international art business and became an important platform for new and progressive trends in contemporary art. Under the motto "A cowboy's work is never done", which has existed since the beginning, heliumcowboy continues to present exciting young and established artists on the contemporary art market.
Parallel to his work in the gallery, Jörg Heikhaus made his own art under the artist name Alex Diamond, which was also represented internationally at other galleries, including in Barcelona, New York, Aalborg and Cologne. A few years ago, Jörg withdrew from gallery work and handed over responsibility for heliumcowboy to his son Melvin Heikhaus (24) in order to concentrate solely on his own art. The art is created in a part of the gallery space at Bäckerbreitergang 75 in Hamburg, which he has converted into a studio and wood workshop, as well as in his second studio in the far north of Schleswig Holstein.
As the founder of heliumcowboy and since the gallery was established in his studio 20 years ago, it was only natural to give Jörg Heikhaus aka Alex Diamond a big stage for his anniversary, which he found in the renowned Barlach Halle K.
Alex Diamond sees himself primarily as a "storyteller". The main part of his work consists of analyzing and interpreting contemporary culture and its recurring patterns of recognition. The artistic focus is on the study of the social and cultural aspects of human coexistence.

There is always a sense of political and social unease in Alex Diamond's work. As an artist, he accepts the responsibility to express himself on pressing issues of our time through his own means. There is great anger to be felt, but also hope and encouragement for change. However, this depth of content is not in the aesthetic and thus visible foreground, but develops like a good song by getting involved with melody and rhythm, harmony and disharmony, text and voice.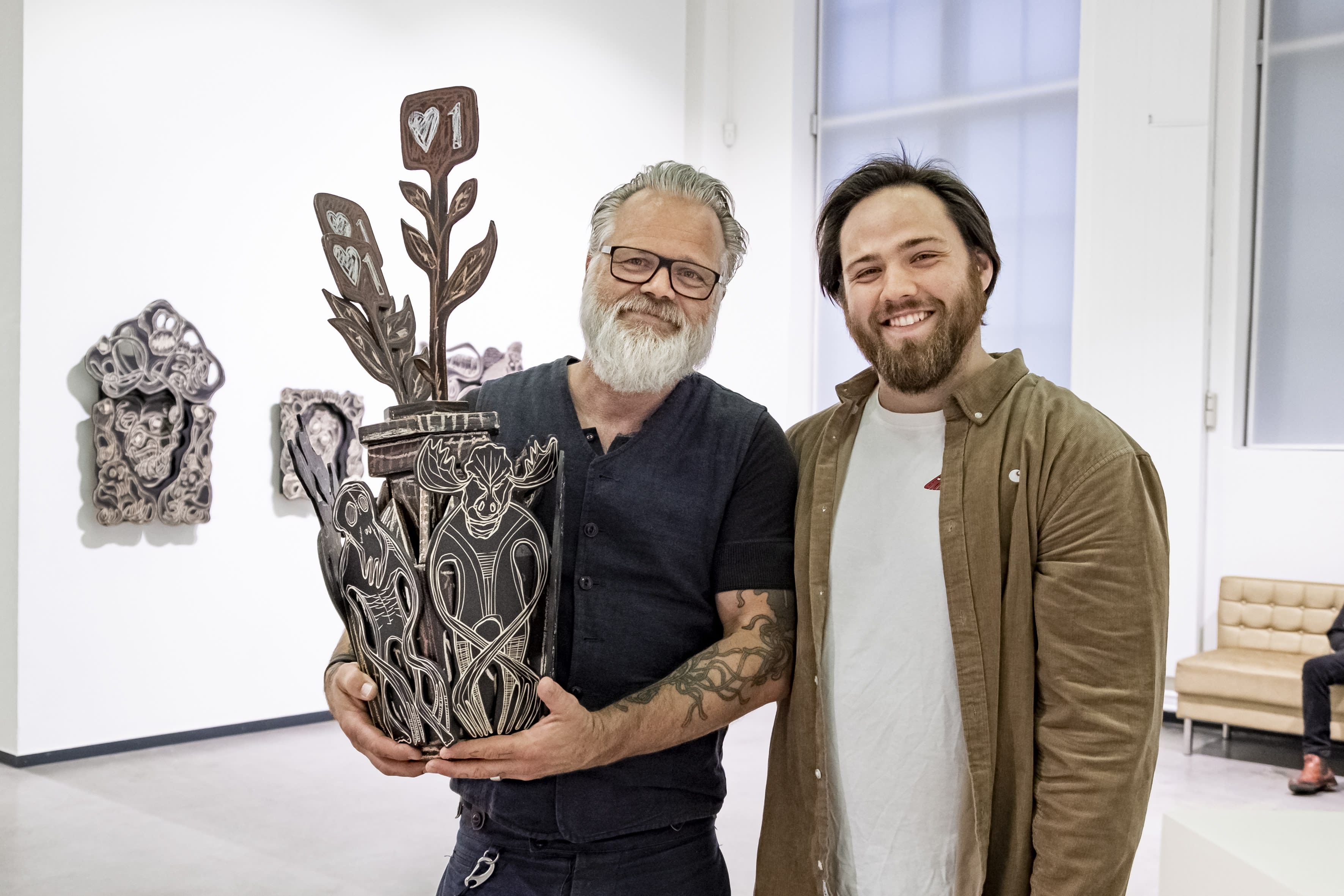 Foto by: Eric Anders